Curriculum for gr. 6-8
Compiled by Dan Harper, v. 1.0.
Copyright (c) 2014-2022 Dan Harper
Major Projects
You can run Ecojustice Class solely by using the Ecojustice Class Lesson Plans. BUT you can also take on major projects, depending on the skills of your teaching team. Below are some ideas for major projects.
Note that major projects require plenty of advance planning. Many of them also require a budget for materials.
Birdhouses
Making birdhouses usually takes 3-4 weeks. You'll need at least one of your teachers to have basic woodworking skills, plus tools you can use in class.
Photocopy the plans below for the teens to use.
---
Tire Garden Demonstration Project
Making, installing, and filling a tire garden takes 1-3 weeks.
Learn more about how tire gardens address food insecurity in urban settings.
---
Clay Pot Irrigation
Ordinary terracotta (clay) plant pots make good irrigation systems. Plug the hole in the bottom of the pot, bury the pot in the garden up to within an inch of the top, and fill it with water. Use a terracotta saucer (meant to go under the clay pot) as a cover, to keep the water from evaporating. Learn more about clay pot irrigation.
Clay pot irrigation is an efficient way to irrigate in dry climates like Northern California. An 8 inch clay pot will release its water over a period of 3-4 days.
Clay Pots can be added after seedlings have been planted, or after seeds have sprouted. Note that clay pots do not provide adequate irrigation for about the first two weeks after you transplant a seedling. The roots need time to seek out the moist soil around the clay pot. Plan to provide additional irrigation right after transplanting.
---
Install a Rain Barrel
If you have the budget to purchase a rain barrel, or if you can get one donated, you can spend one or more classes installing it.
As an alternative, look into installing rain benches.
---
Build a Composter
The original Ecojustice Class spent one class assembling a commercial tumbling composter. We added worms to this compost bin, and learned how to keep the worms happy.
Other possibilities include building a wood pallet compost bin, or building your own worm composter.
Remember, once you make a composter, you have to keep feeding it, and keep a good moisture level. So this becomes a major project that can last for the entire year, taking up a little bit of class time each week. Learn more about how to create good compost.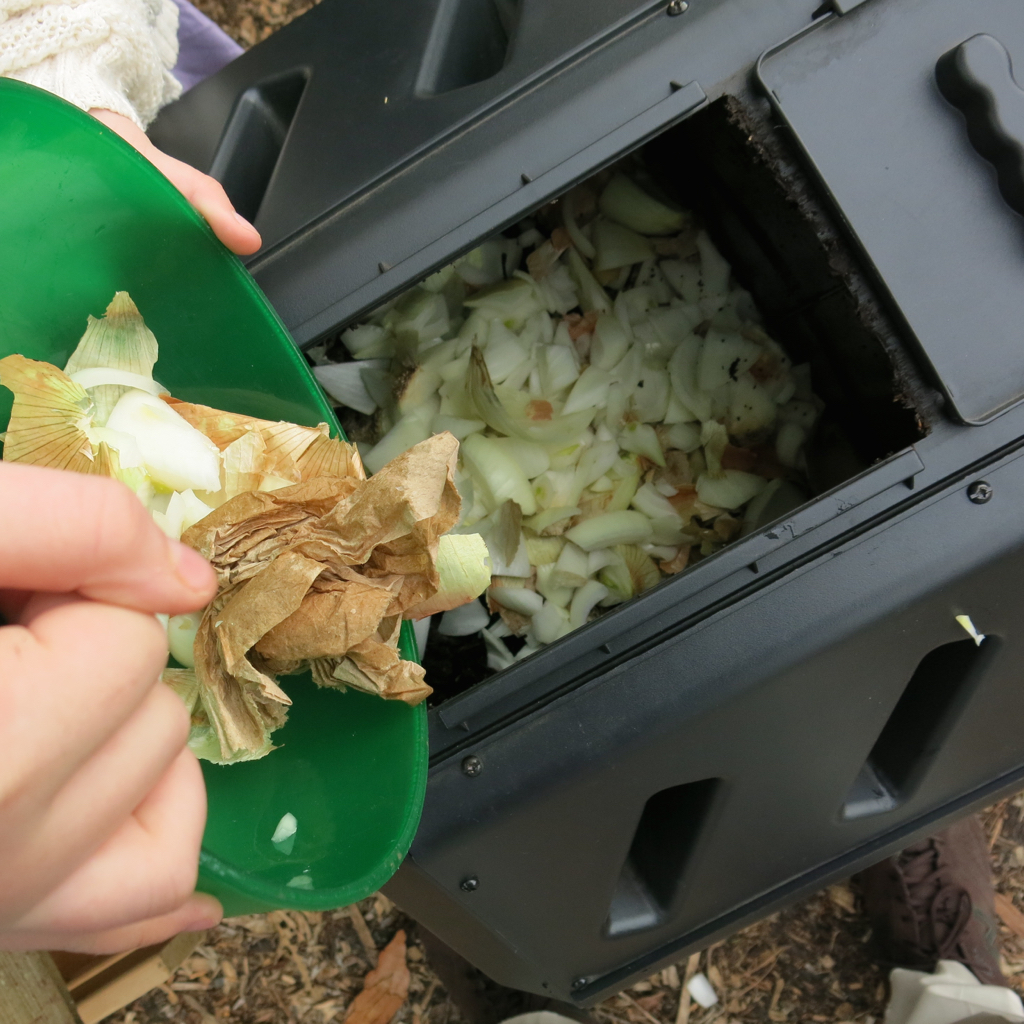 ---
More Major Project Ideas
We've tried all the ideas above. But there are many ideas for major projects that we've never had the time to try out. Here are some of our ideas:
E-waste educational program for your congregation, followed by e-waste collection