Neighboring Faith Communities Resources
Material to supplement a curriculum for grades 6-8
by Dan Harper, v. 0.5
Copyright (c) 2012-2019 Dan Harper
Back to the Table of Contents
This Web page contains links to arts resources that can help to introduce various faith communities to the participants prior to a visit. Note that many of the resources below focus more on the emotional dimension of religion than the artistic/material dimension.
Examples of several different kinds of arts may be found on this page, including: sacred space; liturgical objects; painting and sculpture; fabric arts; written and spoken arts; music; worship services.
Unitarian Universalist
A. Christian
B. Jewish
C. Islamic
D. Buddhist
E. Confucian
F. Daoist (Taoist)
G. Hinduism
H. Orisa devotion
I. Zoroastrian
J. Sikh
K. Baha'i
L. Jain
M. New Religious Movements
nbsp;
ARTS RESOURCES FOR DIFFERENT FAITH COMMUNITIES
Unitarian Universalist resources
Unitarian Universalist liturgical object: flaming chalice
Description of a flaming chalice at UUA.org
Includes photos of a flaming chalice. This Web page states: "A flame within a chalice (a cup with a stem and foot) is a primary symbol of the Unitarian Universalist faith tradition."
"Wartime origins of the flaming chalice"
Short, well-written article on the history of the flaming chalice.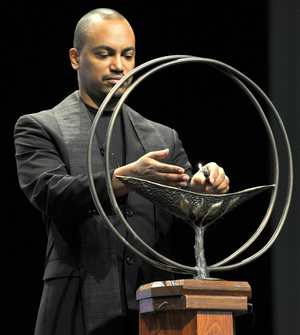 Above: Carlton Smith lighting a flaming chalice during a UU worhsip service at the annual General Assembly.
Unitarian Universalist written and spoken arts: UU poetry
"This is Just To Say"
This is a good short poem by William Carlos Williams, who was both a doctor and a poet. More poems by Williams.
"Elm"
A beautiful, if somewhat strange, poem by Sylvia Plath. More poems by Plath.
"As I Ebb Towards the End of Life"
A lovely poem by Everett Hoagland, published in UU World magazine. This poem was read by Hoagland in a worship service at the UU Church of Palo Alto in 2011. You can hear him reading this poem on this video — skip ahead to 14:40.
In the arts, Unitarian Universalists have probably made their greatest contribution to poetry. Excluding those still alive, UU poets include such luminaries as Robert Burns, Samuel Taylor Coleridge, E. E. Cummings, Ralph Waldo Emerson, Sylvia Plath, and Marianne Moore; as well as less well-known poets such as Joseph Blanco White, Dorothy Livesay, and Frances Ellen Watkins Harper. UU poets who were well-known in their day but are now mostly forgotten include William Herbert Carruthers, Edwin Markham, Celia Thaxter, and Jones Very. (There are no currently living UU poets with the high reputation of Emerson, Plath, or Moore.)
Poetry represents the greatest UU contribution to the arts. This is not surprising, given that we tend to be highly verbal people, who greatly value poetry, and who emphasize the spoken word above all else in our worship services.
A. Christian
A-1. Roman Catholic
Roman Catholic music: Gregorian chant
A nice introduction to Gregorian chant, from PBS. This 8:39 video tells how singing is a form of prayer to these Catholic monks. You can stop watching at about 3:45, when the video starts talking about the history of the monastery and the prior.
Roman Catholic painting/sculpture: Michelangelo's Pieta
In this short (1:55) video, Sister Wendy, a Roman Catholic nun, offers her interpretation of one of the great works of Christian art, Michelangelo's Pieta at St. Peter's Basilica in Rome, a church which is one of the holiest of all Roman Catholic churches. Roman Catholicism has inspired and been the patron of some of the greatest works of painting, sculpture, and architecture in the world. While these many great art works depict Christian themes and stories, they remain true to the root meaning of the word "catholic," encompassing a comprehensive and incredibly broad range of human experience. In the best Catholic tradition, Sister Wendy's interpretation of Michelangelo's Pieta fits this pattern, finding both a deep human meaning and a transcendent meaning in the sculpture.
A-2. Eastern Orthodox
Greek Orthodox
Greek Orthodox worship service: Processional
This video shows a processional. Notice how the front part of the church is partially screened off from the congregation; there's no sense that the congregation is supposed to see and hear everything. Note how the congregation participates, by turning to watch the icon that is carried around the church, and by crossing themselves at the correct time.
The service is supposed to appeal to all the senses, and like the theater involves several art forms — music, paintings, movement — in fact, contemporary Western theater evolved from sacred plays and worship services of the Middle Ages.
Russian Orthodox
Russian Orthodox worship service
This video gives a little taste of what it's like to attend a Russian Orthodox service.
Notice that the worship leaders often face away from the congregation; it is more important for them to be facing the communion table (which is to say, facing in the same direction as the congregation). The most important relationship is between humans and the divine, not the relationship between priest and congregation.
Notice the beautiful decoration and ornamentation of the church building, as well as the music that goes on even when the worship leaders are speaking. The whole of the service is supposed to be beautiful.
A-3. Oriental Orthodox
Antiochian Orthodox
—
Armenian Orthodox
Armenian Orthodox worship service
This professionally-produced film lasts for nearly two hours — far longer than most people will want to watch. If you're willing to sit through the entire two hours, the film will expose you to a wide range of arts. But even watching for five minutes will be worth your while.
There are lots of close-ups of beautiful art objects — including metalwork, clothing (vestments), fabric art, paintings, etc. There are also long- and mid-range shots of the architecture of the building, and close-ups of architectural details. For music and spoken word, the film provides high-quality audio of the singing, chanting, and reading/speaking. And best of all, occasional titles help you understand what you're seeing.
Coptic Orthodox
—
Eritrean Orthodox
Eritrean Orthodox music with photos of worship services
From the Toronto Eritrean Orthodox Church, Canada.
Amateur video footage of Seattle Eritrean Orthodox Christmas service
Notice how the little kids are allowed to roam around the service. Fast forward to about 4:30 to see a shot of the whole congregation.
Syriac Orthodox
Syriac Orthodox worship service: Processional with palms
This amateur video from a church in San Francisco lasts an hour. It's way too long to watch in its entirety, so just check out the first few minutes of the processional with the palm leaves. Notice how the children get to participate in the processional, holding on the palm leaves.
A-4. Assyrian Church of the East
—
A-5.Protestant
a. Lutheran
Lutheran liturgical objects: Communion service
A short video of Lutheran communion, from Christ Church Lutheran, San Francisco, showing the physical objects used in preparing and serving communion. You will see most of the physical objects in the first three minutes of the video; watch the rest of the video (more than 12 minutes) only if you want to see how these objects are used.
b. Church of England (Anglican) / Episcopalian
Episcopalian liturgical object: Book of Common Prayer
An introduction to the Book of Common Prayer, a book which is found in the pews of Episcopalian churches in the U.S.
Anglican sacred space: Canterbury Cathedral
Amazing videography of Canterbury Cathedral, one of the most beautiful of the many spectacular Anglican cathedral buildings. Stop watching at 3:10, after which the video shifts to become an advertisement for the small hotel on the grounds of the cathedral.
c. Reformed tradition (incl. Presbyterian, Congregational, etc.)
Reformed music: Congregational or choral song
One of the great hymn writers was Rev. Isaac Watts, a Congregationalist, and one of the great U.S. composers of hymn tunes was Lowell Mason, a Presbyterian — both these people can be considered part of the Reformed tradition. Watts wrote the hymn "Joy to the World," and Mason later wrote the famous music that goes with it. In the video above, it is performed in a Presbyterian church.
Presbyterian
—
Congregational
—
Disciples of Christ
Official Disciples of Christ video, stating why "Welcome" is a central value for the Disciples.
—
d. Baptist
American Baptist
—
National Baptist Convention
—
Progressive National Baptist Convention
PNBC written and spoken arts: Sermon by Rev. Dr. Martin Luther King
The Progressive National Baptist Convention (PBNC) split from the National Baptist Convention (NBC) over the issue of how active churches should be in desegregation work; the PBNC wanted to be more active than the NBC. The NBC is the largest predominantly Black Christian denomination in the U.S.
For our purposes, both the PBNC and the NBC have a long tradition of powerful preaching. Their best preachers elevate preaching to a high art; and Martin Luther King, Jr., remains one of the greatest of all Black Baptist preachers.
Southern Baptist
Southern Baptist sacred space: Baptismal font
A video of Southern Baptist teenagers receiving full immersion baptism in a baptismal pool built into the church building. It's a long video, you only need to watch one or two baptisms to get the idea.
Primitive Baptist
Primitive Baptist music, sacred space: Congregational singing, church building
Primitive Baptists allow no musical instruments in their services, so most congregations can readily sing in three- and four-part harmony. Here's a group Primitive Baptists, all of whom are in their late teens or twenties, singing from their hymnal inside a historic Primitive Baptist church building. Notice that the building is very plain, with little or no ornamentation; this is typical of Primitive Baptist church buildings.
e. Anabaptist
Mennonite Church USA
f. Religious Society of Friends (Quaker)
Kids at a Quaker school talk about what it's like to be in silent meeting for worship:
Friends General Conference: Quaker sacred space: Brooklyn Friends Meeting House
This video has good videography of the inside of a Friends Meeting House; notice that the building is very plain, with no ornamentation. The video also provides a good brief introduction to what goes in in Quaker silent meeting for worship.
Friends United Meeting: Traveling Ministers
This short video points out two interesting characteristics of Quakers. First, even though many Quaker meetings affiliated with Friends United Meeting are so-called "Programmed meetings" that look like regular churches, with a minister and a sermon, etc., there is still an opportunity for anyone present to speak and share "spoken ministry." Second, "Traveling Ministers" are a long-standing Quaker tradition where an individual Quaker feels called to travel to other Quaker meetings, and often will feel called to speak, to share spoken ministry, during these visits.
g. Methodist groups
African Methodist Epsicopal Zion Church
AME Zion music: Choir performance
Video of a really good AME Zion church choir. Note the call-and-response style singing, led by one superb singer. The first song ends at about 2:25, and you stop the video there; or keep the video going for more hymns.
A history video about the restored University AME Zion church building in Palo Alto.
AME Zion sacred space: Camp meeting
A long video about a huge AME Zion camp meeting ground that dates back to 1870. Watch through to about 6:00, where you get to see the camp meeting cemetery (if you want to watch more, skip ahead to the following: check out the concession area, starting at about 9:45; the inside of a camper, starting at about 13:45; the only white people you see are cops, starting at 14:10; a camp meeting choir and band, starting at 16:00; camp meeting night scenes starting at 22:00). Notice the "tents" are now weatherized and look like cabins or small houses (this is typical of Methodist camp meeting grounds that have been around for a long time). When you see "The Arbor," the main worship space, notice people using classic hand fans to keep themselves cool.
See United Methodist camp meeting video below, with note on a Universalist camp meeting ground.
United Methodist Church
United Methodist sacred space: Camp meeting
A brief introduction to the camp meeting, a characteristic feature of U.S. Methodists. Although camp meetings were more important in 19th C. U.S. religious life, they continue to be an important annual event for many Methodists. Camp meeting grounds usually have tents or small cabins to stay in while attending the camp meeting; worship services often take place in tents or outdoors. Camp meetings tend to be very informal.
Note that other denominations also have camp meetings. For example, Ferry Beach Park Association in Saco, Maine, was started by Universalists over a hundred years ago as a tent ground and outdoor chapel, and you can still attend week-long camps where you stay in a tent and go to UU services in an outdoor chapel. But camp meetings remain more important for Methodists than probably for any other denomination.
United Methodist sacred space: Traditional church
Here's a video of a Methodist hymn, written by Charles Wesley, one of the founders of Methodism, sung by congregation and choir in a United Methodist church outside Washington, D.C. In contrast to the informality of camp meetings (see video above), this is a very formal church service. Note the items carried in the processional, the robed choir, the choreography as the processional gets to the front of the church building.
h. Non-denominational
—
A-6. Restorationist churches
Latter-Day Saints (Mormon)
An official Mormon video, from the "Mormon Newsroom," outlining what happens at a Mormon worship service. Notice how children attend worship services with their families; Mormons place a high value on family life. Notice also that there are no paid ministers or clergy among Mormons.
Mormon fabric arts: Temple garments
An official Mormon video, from the "Mormon Newsroom," about temple garments. Temple garments are sacred undergarments worn by devout Mormons. Some people like to make fun of these garments, but this straightforward video places temple garments in a wider context of religious clothing.
Seventh Day Adventist
—
Jehovah's Witnesses
—
A-7. Pentecostal and charismatic churches
Pentecostal/Charismatic music: Song performance
C3 Global Church, based in Australia, is known for their contemporary Christian music; a significant part of the denomination's revenue apparently comes from music sales. Note that when the lead singer sings, "So faithful / So constant / So loving and so true / So powerful in all You do / You fill me / You see me / You know my every move / And You love for me to sing to You" — she isn't referring to her boyfriend or husband, she's referring to her God.
Pentecostal personal experience: Baptism in the Holy Ghost (1)
Pentecostal personal experience: Baptism in the Holy Ghost (2)
Two people talk about how they were baptized in the Holy Ghost — one as a child in a Pentecostal church service, and one while at home. It is easy for Unitarian Universalists to dismiss these experiences as irrational — but many UUs will say they undergo ecstatic experiences at concerts, in the outdoors, etc. It's also worth reflecting on the fact that some Pentecostal church services are designed to fill people with religious joy, while UU services are usually designed to get people to think; just because we like to think in our services doesn't mean that's the right kind of service for everyone (and in fact, a common criticism of UU services is that they are "boring" and "like classes").
A-8. African Independent Churches (African Intitiated Churches)
We know of none in Silicon Valley.
B. Jewish
Jewish worship service: Snippet from a service in Jerusalem's Great Synagogue
B-1. Orthodox
Orthodox Jewish sacred space: Snippet of an Orthodox service in L.A.
Note the curtain dividing the men from the women. Note also that there is room for dancing!
B-2. Conservative
—
B-3. Reform
Reform Jewish worship service: Shabbat blessings
A Reform rabbi tells you how to do the Shabbat blessings at home (note that worship may take place in the home).
Jewish liturgical object: Making a Torah
A short documentary about soferet (scribe) Julie Seltzer, who created a Torah at the Jewish Contemporary Museum in San Francisco in 2010. The Torah scroll in any Jewish synagogue must be written by hand, using a quill on parhment, as described in this video. (Listed under Reform Judaism, because traditionally a woman would not be a soferet.)
B-4. Reconstructionist
Interview with a Reconstructionist Jew
A woman explains why she's interested in Reconstructionist Judaism: you don't have to believe in God, you just do what Jews do: "That's what you do if you're a Jew."
—-
C. Islamic
Islamic written and spoken arts: Qu'ran reciting
Qu'ran reciting is a distinctive Islamic art form. It is a difficult art to learn, and there are international competitions. This video is of Sharifah Khazif Fadzilah, a champion Qu'ran reciter, who is reciting at an outdoor event (presumably a championship?). She has a fabulous voice, and the casual setting adds to the interest.
Islamic liturgical object: Qu'ran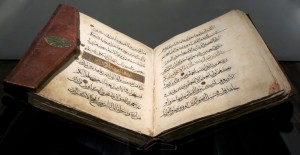 An Iranian Qu'ran from the fourteenth century, now in the Asian Art Musuem, San Francisco.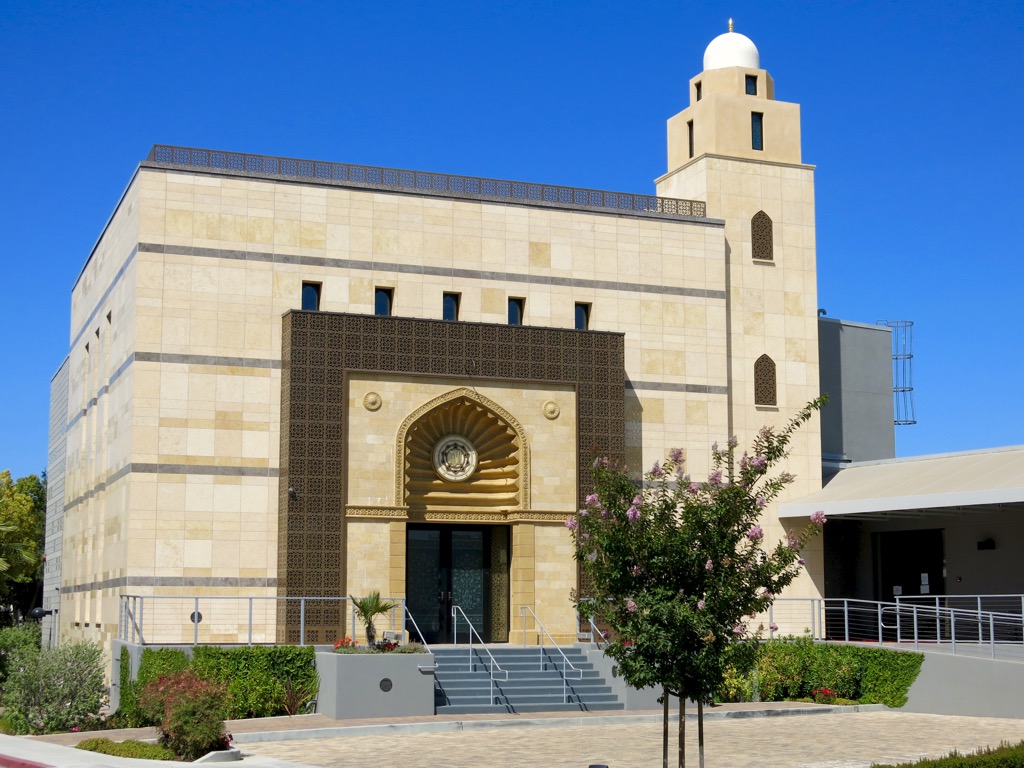 Above: Anjuman-e-Jamali masjid, Dahwoodi Bohra sect, Palo Alto, California
D. Buddhist
D-1. Theravada
—
D-2.Mahayana
a. Pure Land
—
b. Zen
Filmed in a Zen Rinzai temple in Japan.
—
D-3. Tibetan
Tibetan Buddhist painting/sculpture: Sand mandala
A characteristic art form of Tibetan Buddhist monks is the sand mandala. Here are links to my narrative account of how a group of monks made a sand mandala at the Unitarian Universalist Church of Palo Alto in 2011: day one | day two | day three | day four.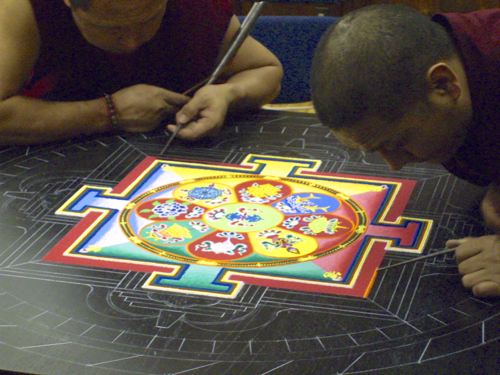 E. Confucian
We know of no Confucian temples in the area.
F. Daoist (Taoism)
What to do and not to do, shown during a visit to a Taoist temple in Taiwan.
Brief impressionistic video of a visit to a Taoist temple in L.A.
—
G. Hindu
Hindu liturgical object: Lord Jaganath
Pandits and helpers set Lord Jaganath on a pedestal at a Sunnyvale Hindu temple.
H. Yoruba religion
a. Yoruba religion (in Africa)
Yoruba Religion in Southwestern Nigeria
WGBH's "Sacred Journeys" show follows some Americans of Afircan descent who return to Nigeria, the heartland of Yoruba religion. Addresses the importance of animal sacrifice in the Yoruba tradition.
b. Santeria
A botanica in Houston, Texas, that serves as a center for practitioners of Santeria. Interview with the Santera who runs the botanica. Emphasis on the material aspects of Santeria that can be found in a botanica: candles, herbs, etc. But also some information about how the rituals are practiced.
c. Voudun or Voodoo
Voodoo in Florida's Little Haiti
BBC visits a Haitian botanica in Miami in this short piece. Video shows inside of a temple, has music, dancing, and spirit possession.
d. Candomble
A brief intro to Candomble in Brazil. Good video of dancing. Has a good explanation of why Candomble is secretive.
—
I. Zoroastrian
Zoroastrian personal experience
A ten minute video on what it's like to be a Zoroastrian. (Since non-Zoroastrians are not allowed in Fire Temples, this video is also worth watching for its depiction of a Zoroastrian worship service.)
J. Sikh
Guru Nanak, the founder of Sikhism, was the first great Sikh hymnodist, and hymns have been a central feature of Sikhism ever since. This is a sort of music video of a Sikh hymn. Includes subtitles with an English translation of the words. Too long to watch the whole thing in class, but worth watching 2-3 minutes.
K. Baha'i
Baha'i: A space for spiritual conversation
A highly-produced video on what a Baha'i home worship group might feel like to those who participate. Interviews on how adherents experience the emotional and social dimensions of Baha'i.
L. New Religious Movements
The categories in this section are taken from Christopher Partridge, New Religions: A Guide: New Religious Movements, Sects, and Alternative Spiritualities (Oxford: Oxford University Press, 2004).
L-1. New religions with roots in Christianity
Unity
Unity worship service: Guided and silent meditation
One of the characteristics of Unity congregations is they encourage a turn inwards, to find peace and your true potential. In this video, you'll see a meditation during a worship service. Notice how different people are sitting in the worship space — some in pews, some on the floor. Notice how the videographer focuses on various decorations in the worship space, finally centering on a burning candle. You might also want to check out the song "One" which offers one interpretation of the Unity religious philosophy.
—
Christian Science
Christian Science "Mother Church"
Short video tour of the Christian Science "Mother Church" in Boston, Mass., the headquarters of Christian Science.
Amateur video of a healing service
Very amateur video of a Christian Science healing service.
—
L-2. New religions with roots in Judaism
Ethical Culture Society
The New York Ethical Culture Society
A short (13 minutes) introduction to Ethical Culture Society.
—
L-3. New religions with roots in Islam
—
L-4. New religions with roots in Zoroastrianism
—
L-5. New religions with roots in Indian religions
Ananda Church of Self-Realization
Ananda Church music: Song performance
A song with words by Swami Kriyananda, the founder of the Ananda Church movement. Note the harmonium, an instrument with the sound of Indian music, accompanying the singer.
—
L-6. New religions with roots in East Asian religions
Cao Dai
Cao Dai worship service: Excerpt of liturgy
A short segment of a service at the Cao Dai Temple in San Jose; mostly music and singing. Note the decorations on the walls, the sculpture and painting, and the robes worn by the worshipers.
—
L-7. New religions with roots in indigenous and pagan traditions
a. Neo-Pagan
A short video about a Wiccan group celebrating Samhain.
L-8. New religions with roots in Western esoteric traditions
—
L-9. New religions with roots in modern Western cultures
How two comedians accidentally formed a new religious movement for atheists.
M. Other
Jain
A very brief video showing the interior of the Jain temple in Milpitas, California. Pause the video so you can see the various deities.
A short excerpt from a moksha kalyanak of Mallinaath, at the Jain temple in Milpitas, California. The priests are pouring libations on the deities, similar to a Hindu abhiseka.
Vegetarianism is a key practice of Jains; see the blog Vegan Jains, written by two northern California Jains, for one perspective on this topic.