Judean Village
A curriculum for mixed-age elementary grades by Dan Harper
Copyright (c) 2015 Dan Harper
Weaving cloth was an important activity in Judean villages. Weaving is mentioned a number of times in the Hebrew Bible, including a passage where Moses recognizes the offerings brought to the ark of the covenant by several different skilled craftspeople, including weavers — thus ancient Jewish weavers could take pride in being mentioned by Moses himself.
The following is a simple weaving project that can be completed by "apprentices" in about 30-45 minutes.
Materials:
— two sticks about 1/2″ in diameter, and 12-14″ long
— weaving board made of a 12×12″ square of 1/2″ plywood, with nails driven in to hold the sticks (see photo below)
— 22 pieces of neutral colored yarn each 36″ long (tan or pale blue work well)
— a contrasting color of yarn to make the fish
— piece of felt
— black magic marker
— white glue
First, here's a picture of the completed project: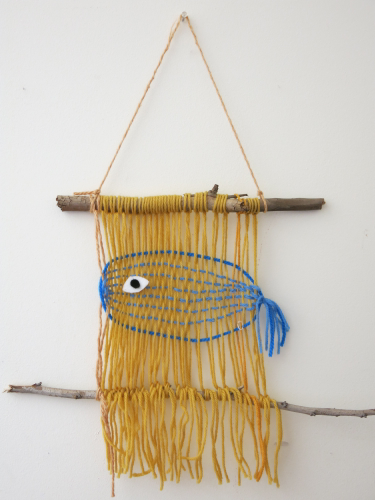 To start, first lay out the warp using a neutral color of yarn. Slide the top stick down into the slot made by the four nails at the top of the weaving board. Use a lark's head knot to tie the yarn to the upper stick. Tie all 22 pieces of yarn to the top stick, spacing the pieces out evenly.
Now slide the bottom stick into place into its nails. Then tie the yarn to the bottom stick — take both ends of a given piece of yarn, and tie them to the bottom stick using an overhand knot. (If you don't know how to tie this knots, do a Web search for instructions, or look at the photo below.)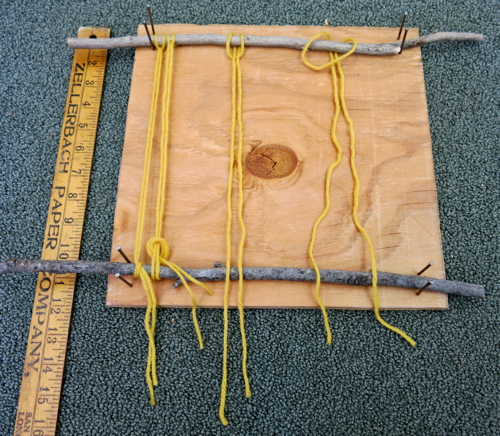 Above, you can see the basic process for laying out the warp. The sticks have been slid down into the slots made by the nails. At far left is a piece of yarn tied off and ready to go. Second from left, you can see how to tie an overhand knot on the bottom stick. Third and fourth from left show how to tie a lark's head knot. Keep the yarn pretty tight so that each piece is stretched — this will make it easier to weave.
Once you get the yarn for the warp in place, weaving the fish design is pretty straightforward. Tie off the fish's tail using an overhand knot. Cut an eye-shaped piece of felt, mark a pupil in the middle, and glue it in place.
Finally, tie a piece of yarn to hang the weaving with.
Cultural and religious significance:
Weaving had an important place in the life of village in Judea in the year 29.
Everyone would have know, for example, that the great prophet Moses acknowledged the gifts of weavers to the God of the Israelites. Here's what it says in the Torah, the book of Exodus 35:29-35:
"The children of Israel brought a willing offering unto the Lord, every man and woman, whose heart made them willing to bring for all manner of work, which the Lord had commanded to be made by the hand of Moses. And Moses said unto the children of Israel, 'See, the Lord hath called by name Bezaleel the son of Uri, the son of Hur, of the tribe of Judah; and he hath filled him with the spirit of God, in wisdom, in understanding, and in knowledge, and in all manner of workmanship; and to devise curious works, to work in gold, and in silver, and in brass, and in the cutting of stones, to set them, and in carving of wood, to make any manner of cunning work. And he hath put in his heart that he may teach, both he, and Aholiab, the son of Ahisamach, of the tribe of Dan. Them hath he filled with wisdom of heart, to work all manner of work, of the engraver, and of the cunning workman, and of the embroiderer, in blue, and in purple, in scarlet, and in fine linen, and of the weaver, even of them that do any work, and of those that devise cunning work.' "
[New Revised Standard Version.]